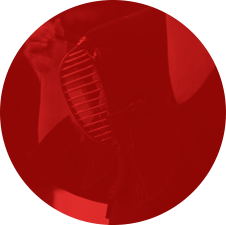 Competition
updated
The 63rd All Japan TOZAI-TAIKO(East VS.West Japan) KENDO TAIKAI
Date:

10/9/2017

Venue:

Fukuoka City Gymnasium<!福岡県福岡市博多区東公園8-2-->
Match Results
Women
* Result:West18Wins,East3Wins
Men
* Result:East24Wins,West38Wins,1draw
Excellent Match Award
15SHO
East
N.EIGA
HOKKAIDO
West
T.HASUO
FUKUOKA
5SHO
East
T.ISHIDA
TOKYO
West
Y.YAMANAKA
TOTTORI
Excellent Competitor Award
Women
| | | |
| --- | --- | --- |
| West-FUKUSHO | Y.KOZUNO | OKAYAMA |
Men
| | | |
| --- | --- | --- |
| West-26SHO | Y.TACHIBANA | FUKUOKA |
| West-19SHO | K.TAKENAKA | KAGOSHIMA |
| East-11SHO | Y.SAGA | HOKKAIDO |
| West-FUKUSHO | I.OKIDO | EHIME |
| East-TAISHO | A.TOYOMURA | TOKYO |
All match record
East
West
MANAGER
TOKYO
HANSHI
M.KAKEHASHI
T.SHIMANO
HANSHI
OSAKA
Women (5 matches)
No.
Name
H
1
2
3
3
2
1
H
Name
▷
SENPO
M.TAKAHASHI
E
M
N.ONISHI
JIHO
M.SAKO
K
E
M.YAMAMOTO
CHUKEN
T.ARAI
M
M.KAWAGOE
FUKUSHO
S.YAMADA
E
M
M
Y.KOZUNO
TAISHO
M.KUKIYAMA
E
K
H.NISHI
(1)1
4(5)
Men (35 matchs)
No.
Name
H
1
2
3
3
2
1
H
Name
▷
SENPO
M.JISHIRO
K
M
H.OISHI
34SHO
Y.KATSUMI
M
M
T.KAMIUTO
33SHO
Y.OSONOI
M
M
K.FUJIYAMA
32SHO
K.HASHIMOTO
1
D
▲
C.SAKATA
31SHO
R.UCHIMURA
M
M
E
K
K.OMURA
30SHO
S.HAMADA
M
K
K
T.NAKANO
29SHO
M.TAKASOE
D
K
K.FURUKAWA
28SHO
Y.HIGASHINAGA
M
M
I.NAKAHARA
27SHO
T.OTSUJI
M
T.TANIYAMA
26SHO
N.MAKITA
M
K
K
Y.TACHIBANA
25SHO
Y.YAMANAKA
K
K
M
S.KIKUKAWA
24SHO
N.TAKAHASHI
1
M
S.TERAMOTO
23SHO
A.KAWAKAMI
M
M
K
K.SUGIYAMA
22SHO
M.HOJO
M
M
K.SEIKE
21SHO
M.ONO
M
M
T.SUMI
20SHO
M.MINAMI
M
K
K
S.TAKAMIYA
19SHO
M.YODA
K
M
K.TAKENAKA
18SHO
T.SUZUKI
M
1
A.TATSUMI
17SHO
K.IGUCHI
▲
K
D
M.KADOTA
16SHO
M.NAKAHARA
M
M
K.TOMOHIRO
15SHO
N.EIGA
M
M
E
K
T.HASUO
14SHO
T.KANEDA
E
D
S.YOSHIDA
13SHO
Y.SHIMOKAWA
K
E
K.TAMAURA
12SHO
S.HAYASHI
M
1
▲
T.TAKEUCHI
11SHO
Y.SAGA
M
M
Y.ETO
10SHO
K.HONNA
K
K
M.MATSUMOTO
9SHO
K.KURANARI
M
E
T.SATO
8SHO
H.SAKATA
K
D
N.MIYATO
7SHO
M.MIYAZAKI
M
1
K.KASATANI
6SHO
K.TERACHI
K
1
T.KIYOTA
5SHO
T.ISHIDA
M
E
M
M
Y.YAMANAKA
4SHO
T.OKOCHI
K
M
S.SHIMIZU
3SHO
A.IJIMA
K
M
K.URA
FUKUSHO
K.KASAMURA
K
E
K
K
I.OKIDO
TAISHO
A.TOYOMURA
M
E
K.TERASAKI
(38)18
17(34)
Gallery
Loading...
Event Details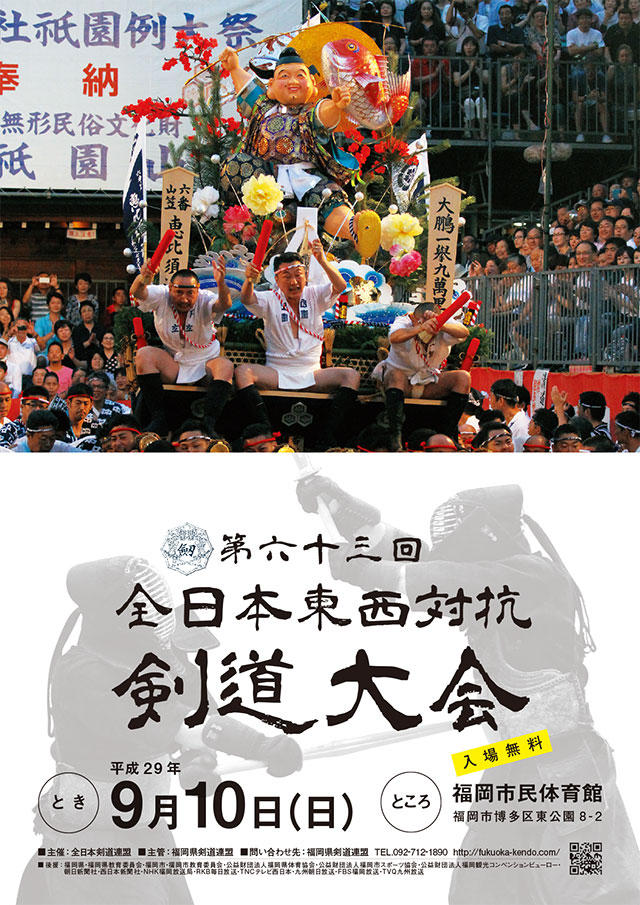 Event

The 63rd All Japan TOZAI-TAIKO(East VS.West Japan) KENDO TAIKAI

Date

10/9/2017

Venue

Fukuoka City Gymnasium<!福岡県福岡市博多区東公園8-2-->
8-2 Higashi Koen, Hakata ku, Fukuoka city, Fukuoka 〒812-0045


Ride the subway to Chiyokenchoguchi Station. The venue is a 1 minute walk. / Ride the Nishitetsu bus to Chiyomachi. The venue is a 4 minute walk. / Ride the JR Kyushu to Yoshizuka Station. The venue is a 10 minute walk.

Note

This tournament pits competitors selected for their outstanding skill from the east and west of Japan against each other. Started in the early part of the twentieth century, the annual AJKF event continues to this day as an important demonstration of the values of kendo.

(Women's Division)
In the Women's Division, selected kenshi from the East and West of Japan compete to show the depth of skill in women's kendo and contribute to its growth.
Related Events
The 63rd All Japan TOZAI-TAIKO(East VS.West Japan) KENDO TAIKAI