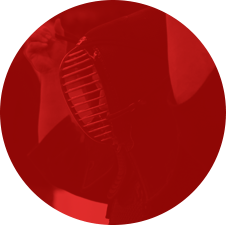 AJKF News
updated
Wearing a Shield to Prevent Infection of Variant Coronaviruses
The All Japan Kendo Federation (AJKF) has revised its infection prevention guidelines (supplement) to state that "when wearing a mask, the nose should also be covered."
▲ Article: Wearing Masks in Kendo (Revised) Published on April 7, 2021
As highly infectious variant of coronavirus has been spreading in Japan, infection control has become difficult in some areas.
In consideration of the above, the AJKF strongly recommends wearing a shield in addition to a Men-mask for people over the age of 18.
Some shields cover only the mouth, some only the eyes, and some cover both the mouth and eyes. Please use the one that suits you best.
It should be noted that if you have intense training under the combined use of a Men-mask and a shield at high temperatures, you may find yourself breathing faster than usual and your body temperature may rise.
Therefore, in order to prevent breathing problems and heat stroke, please do not do keiko for a long time, and pay more attention to taking appropriate breaks and drinking water frequently.
*The photo was from the 68th All Japan Kendo Championships.
*Please note that this guidance relates specifically to Japan. Overseas practitioners should follow the rules in their country.