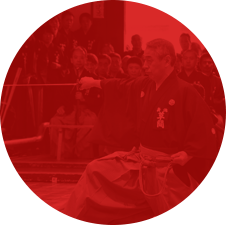 The Concept
of Iaido
Iaido is derived from methods of using the nihonto (Japanese sword) that emerged in the Muromachi period (1333–1573). The object of iaido is to learn to draw the sword in an instant to overcome an aggressor. It is a "Way" in which practitioners seek to train the mind and body through developing a spiritual appreciation of the relationship between life and death, movement and stillness. The connection to kendo is very close, and it is said that iaido and kendo are two sides of the same coin. Because there are many different classical schools of iaido with completely different forms and protocols, originally only demonstrations could be held. In 1966, the 1st All Japan Iaido Championships were convened as a competitive event in which the outcome of matches were decided by referees.
This opportunity led to the creation in 1969 of the All Japan Kendo Federation Iaido forms which were comprised of seven standardized kata. Three more kata were added in 1980, and a further two in 1999 to make a total of 12.
In an iaido match, two competitors use either a live blade or a practice sword to perform a pre-determined set of five kata from the All Japan Kendo Federation Iaido and their own school in under six minutes. The referees decide the winner by assessing the competitors' level of training, etiquette, precision of technique, and attitude.